" Haircare products specially designed for natural curly hair"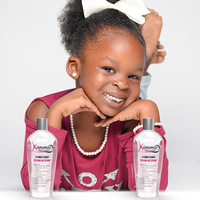 The Best Product Ever
" I really like when my mommy use No Ooch & Ouch Detangling Serum on my hair. It doesn't hurt and I don't cry when she combs my hair"
~Eva~
Works Great On Beards
"I've had so many people ask me what do I use on my beard. Being that I'm really particular about what I put on mine. Well here it is, Thank you for this amazing product!". This silky serum leaves your beard feeling amazing. Surprise your guy with a bottle,  he will love you for it!
~KingKuts205~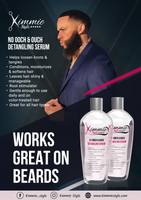 Testimonials
One thing I can say is this product is one of the best hair products I've ever brought.  This product made it so easy to blow my hair out and it smells wonderful. Shout out to Kim she did her thang when she created this!!!!!!

MzShonta Tolbert
Dealing with my new natural hair after my big chop was a challenge. Thanks to Kimmie's Detangling serum it was a lot easier to maintain and it makes me want to comb my hair. The Moisturizer line has helped my hair grow way more than I expected it to in a year. 

Andrea Anderson
Thanks for sending me the best detangling serum ever !!!!!! Lol🏆💘💕💕💕💕💕💕💕💕

Terika Jenkins
Let me start out and say that since dying my hair red I have had to take extra care of it. To get through the tangles easily I have been using this detangling serum🤩 it's great and makes detangling a breeze.

@onlybriajae
I love the No Ooch & Ouch Detangling Serum!! My 7 year old is natural and it is awesome 😍👏🏾

Nakeshia Crenshaw
Girlllll‼ I finally used my serum  on a client today that just took down a quick weave and her hair was so matted to the point, I thought we were going to have to cut it. When I tell you the time I put the Serum on, it  detangled so easily! You've made my job just that much easier, love your produce!! Great Job🙌🏾🙌🏾👏🏾👏🏾

Shonteria Hair Junkie Parker